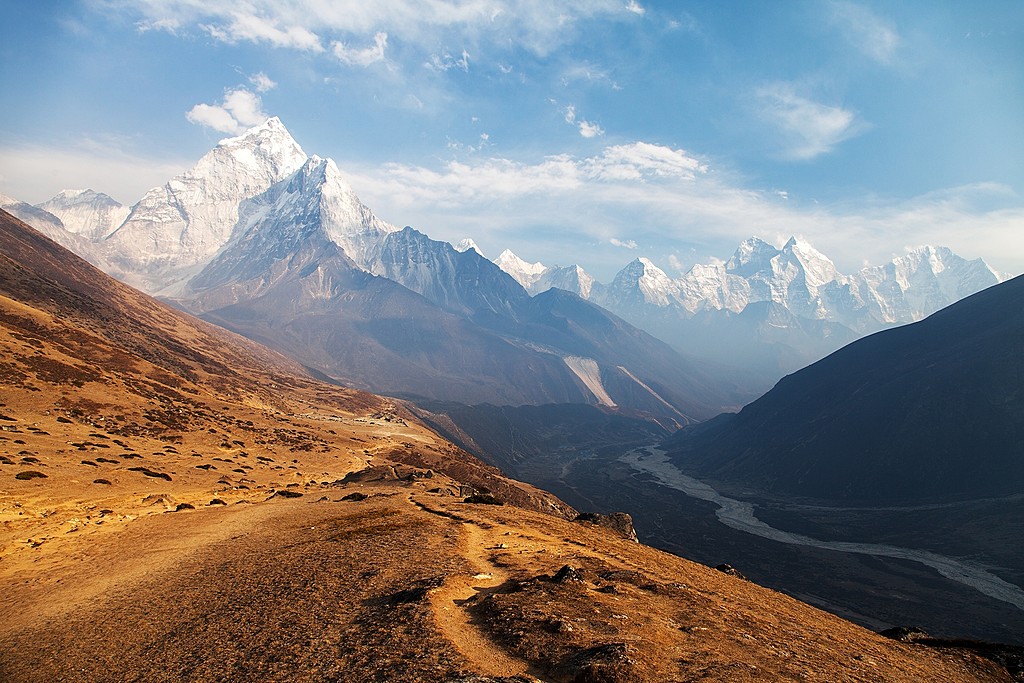 Erratic weather patterns impact production of crops in Everest region of Nepal
August 19, 2022
By: Raihana Maqbool
Yuvraj Basnot owns one kanal of land in Khumbu Pasanglhamu in the Everest region Nepal. Basnot grows potatoes and collard greens and runs a small restaurant in this village. Most of the dishes in the restaurant are prepared from the potatoes and collard greens that he grows in the field and thus these crops are the main source of his income. For the last three years, Banot has been noticing a reduction in the production of his crops which is affecting him financially.
"Potatoes and collard greens are the two vegetables that I grow on my field and sometimes corn as well. These crops are my source of income and my restaurant too depends on these. But in the last few years, I have been witnessing reduction in the yield. First I thought it may be some problem with my crops only but later found out that everyone in this area is facing the same issue," Basnot said.
According to Basnot the untimely and harsh rainfall in the Everest region is one of the reasons for the reduction in the crop and this has affected agriculture.
"The weather patterns here are changing. We now see more incessant rains due to which the seeds are not able to germinate properly and the germinated ones rot due to constant moist conditions," Basnot said, adding, this was not the case before.
Basnot worked as a potter traveling with trekkers to the world's highest peak Mount Everest. Now 60, he has retired and earns from serving food to travelers in his small restaurant.
Experts suggest that as the climate changes and the rise in temperature, many areas in Nepal will be negatively impacted. In 2021, heavy rains, floods, and landslides in Nepal claimed dozens of lives, destroyed crops and hundreds of homes besides other structures.
As per a research study 'Climate change and its impact on Nepalese agriculture' the increase in temperature and erratic rainfall directly affects agriculture and food supply.
The study further says that agriculture is sensitive to short-term changes in weather that affect the production of crops.
"Insufficient rain and increasing temperature cause drought, whereas intense rain in a short period reduces groundwater recharge by accelerating runoff and causing floods. Both the situations induce negative effects in agriculture. Climate change also causes disruption in normal weather patterns changing the intensity and duration of monsoon," the study adds.
Various studies have shown that the overall impact of climate change on agricultural sectors will have negative impacts in the long run in Nepal.
"Earlier, agriculture was good in this area and we used to sell the produce in the market but the situation has changed and it is difficult to manage with lesser yield," Bishnu Malla, a school teacher in Lukla said.
He said that due to unusual weather patterns the production of crop has been hit badly.
The people living in the villages on way to Mount Everest area mostly grow potatoes, barley, radish, beans barley, and wheat.
According to a recent study conducted by the Department of Hydrology and Meteorology Nepal, the average annual maximum temperature of the country has risen by 0.056 degrees Celsius. The report has also studied extreme weather patterns in the country.
According to the report, extreme rainfall has significantly increased in the north-western and north-eastern districts of the country.
Kalpana Rai who sells snacks and drinks to travelers on way to Everest says that the weather patterns are affecting the crops in her village.
"My father is involved in farming and we get potatoes and corn from our fields. We used to sell potatoes to the restaurants in the Namche region but now the production is less and we have to keep it for ourselves. Due to this, I started coming here to make some money," Rai says adding that everything is costly in the region."
Though the farmers work hard in the fields each year but all their hard work comes to naught due to untimely and harsh rainfalls. The reduction in the production of crops is leading to the migration of many from the villages to Kathmandu and India to find jobs.
"It's very difficult and stressful. We work very hard and here in the villages, it is difficult to manage labor. We do everything with our hands as we do not get machines here. But all the labor and hard work go waste when we have heavy rains at the wrong time," Basnot says, adding, "It happens now so frequently."
Nepal's economy depends on agriculture. The total area of Nepal is 147,181 km2 divided into mountains (35%), hills (42%), and terai (23%). A total of 3091000ha area is cultivated for agriculture and it accounts for 38.15% of the gross domestic product (GDP).
In August 2017, Nepal suffered record floods following torrential rains that killed 157 people and left 31 districts awash.
A climate report by the United Nations Intergovernmental Panel on Climate Change (IPCC) urged the world to adapt now, or suffer later, sounding an alarm bell to act before it's too late.
The report states that Nepal faces the risk of massive flooding which may seriously hamper paddy production.
Nepal is a least developed country and experts suggest that it is moving towards a vulnerable situation due to climate change and suggest that effective planning and change towards a low carbon economy can slow down possible disasters.
---